The New Carlisle Animal Clinic is a well-established, full-service, small animal veterinary hospital providing comprehensive medical, surgical and dental care.

We provide a broad spectrum of diagnostic procedures through in-house testing and the use of external laboratories. The facility includes a well-stocked pharmacy, in-hospital surgery suite with laser capability, in-house digital x-ray and ultrasound, dental care area with digital radiography, a closely supervised hospitalization area, indoor/outdoor boarding kennels with outdoor play areas, and a professional grooming staff.
Our Mission Statement: "We, the Health Care Team of the New Carlisle Animal Clinic, dedicate ourselves to provide compassionate care to our animal friends and superior service to their owners. We will celebrate and nurture the human-animal bond by providing the best possible medical care and educating pet owners about the latest innovations in pet care. We commit ourselves to being advocates for patient comfort, health, and safety, and we will treat each pet just as we would treat our own, with the owner's wishes in mind."

We are an American Animal Hospital Association (AAHA)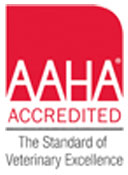 certified hospital, which means that we have voluntarily undergone an extensive inspection service regarding patient care, housekeeping & sanitation, laboratory & Xray facilities, record keeping, equipment and facility maintenance, safety & security, and a long list of other required features. Veterinary hospital inspection is not required in Indiana, putting us among an elite few in this area that have undergone this rigorous process successfully. We are also a gold-level certified Feline Friendly Practice, which means that we have undergone inspection to certify that we use low stress feline handling techniques, have facilities appropriate to minimize kitty stress, and have various other procedures in place to try to keep your feline friend from getting any more upset than necessary during his visit

574-654-3129
Click on the Proxy Rx logo at left to access our online pharmacy!